Dear members,
Women's economic justice cannot be seen in isolation but must be understood within a prevailing framework that ignores gender biases and favors "growth" at all costs. In a context of rapidly increasing corporate power, which AWID defines as, "the excessive control and appropriation of natural resources, labour, information and finance by an alliance of powerful corporations, and global elites, in collusion with government", can women's economic empowerment be attained?
As feminist activists prepare for the

61st Commission on the Status of Women

(CSW), we offer a space to think collectively on the kind of transformations we need to make gender, economic and ecological justice a reality, moving beyond women's economic empowerment to women and oppressed peoples' power to determine the economy.
In co-organizing this webinar

AWID

and the

Gender and Development Network

(GADN) aim to reclaim the debate around women's economic justice from a human rights and feminist perspective and identify common advocacy messages which can be taken to CSW61 and beyond.

---
We will explore:
The theme of CSW61 is women's economic empowerment, what are some of the issues that arise here?
What is the role of corporate power in hampering the advancement of women's rights and gender justice?
As feminist activists, what are our visions and proposals for economic autonomy and justice? Can we identify common advocacy messages in advance of CSW61?
Join us!
Date: 28 February 2017, 9am - 11am Eastern Standard Time (EST)



Registration deadline is 26 February 2017. Spaces are limited and access to the session will be given on a first come first served basis.
For conversion of EST, to other time zones, you can use

Time and Date

.
Please note: This webinar will be held primarily in English with simultaneous interpretation available in Spanish and French.
Panelists include: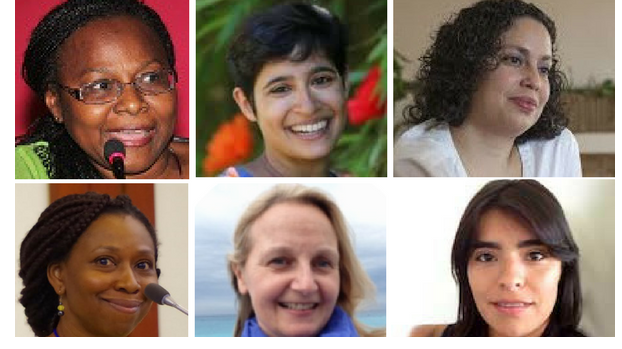 Mariama Williams (Ph.D.), Senior Programme Officer on Global Governance for Development, South Centre
Rachel Moussié, Social Protection Advisor at Women in Informal Employment: Globalizing and Organizing
Marusia López Cruz, Advisor, JASS Crossregional
Chidi King, Director of the Equality Department, International Trade Union Confederation (ITUC)
​Discutant: Jessica Woodroffe, Director, Gender and Development Network (GADN)

Facilitator:

Ana Inés Abelenda, Economic Justice Coordinator, AWID

---
We look forward to having you join us in the webinar soon!
Lejla Medanhodzic
Membership Coordinator